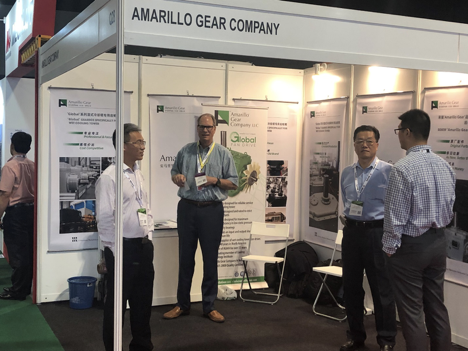 Amarillo Gear & Amarillo Gear (Jiangsu) recently participated at the Power-Gen Asia Conference and Exhibition in Kuala Lumpur, Malaysia. There were more than 11,000 attendees and 350 exhibiting companies from around the world, but most exhibitors were from ASEAN countries, China and South Korea.
Amarillo Gear personnel attending the conference included Kevin Chang (AGC Taiwan Office), Lawrence Lan (AGC China Office), Snow Jiang (AGJ GM), Bob Neely (AGC Cooling Sales Manager) and Steve Chaloupka (AGC Sales Director). Several of our customers were also exhibiting who manufacture wet cooling towers and air-cooled condensers.
We successfully promoted our Amarillo Gear Global Gearbox for wet cooling tower use.  The Global gearbox is a right angle gearbox designed specifically for use in wet cooling towers and is an excellent choice when reliability and cost of ownership are key decision points when selecting a gearbox.  The Global gearbox is built in our new factory in Changzhou City, Jiangsu Province, China.  Having local manufacturing is key to supporting our products in China and SE Asia.  When you are trying to decide on a gearbox for your next cooling tower project or for replacement of older outdated models, please consider the Global gearbox by Amarillo Gear Jiangsu.