We're rolling out a new line of gearboxes! Introducing Amarillo Endurance right angle pump drives!
This line of gearboxes was created to provide a more competitively priced solution with an increased power density while providing the same high level of performance and reliability Amarillo Gear has been offering for over 80 years.
What are the benefits of this new product?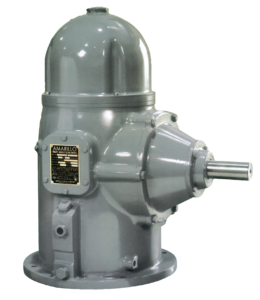 Lower Price.
Zero down thrust combined with heavy thrust capacity in the same gearbox. The "E" thrust bearings are designed to operate without down thrust. (0 Ibfminimum down thrust). But, unlike the SL-type systems, their continuous thrust ratings are similar to the S-type capacities.
Improved standardization. Only one solution is needed regardless of a pump's minimum thrust!
Factory Mutual approval. The Endurance gearboxes have all been listed with FM for use in fire pump systems.
National Fire Protection Association ratings. The FM ratings for the gears and bearings meet or exceed the life requirements of NFPA-20.
Greater flexibility of installation. The Endurance gearboxes may be operated up to 30o of tilt without any modifications to the gearboxes. The additional angle of tilt allows these models to be operated on water vessels (listing), as slant-drives for irrigation and other applications requiring tilting without added cost of modifying the gearbox.
Better availability. Our goal is to make the 1:1 available in days for breakdowns, and within 6-8 weeks ARO for new orders. (Current issues with supplies, may require more time before the lead time objective can be met.)
Want to learn more or check it out for your own systems? Learn more in our product catalog, or contact us today!